Myron Schaer Memorial Endowment
About the Endowment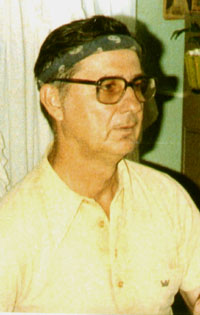 The Myron Harold Schaer Memorial Endowment for the Support of Honey Bee Research and Education was formed at the behest of the late benefactor, a hobby beekeeper from Rome, Georgia. It was Mr. Schaer's wish to promote research at the University of Georgia on the insects that brought him so much pleasure during his retirement years. Beginning in 1990, Mr. Schaer was a regular participant in Extension workshops and training courses conducted by the UGA bee program. The Endowment was established on October 17, 2003 at a ceremony at the UGA bee lab in conjunction with the fall meeting of the Georgia Beekeepers Association. The interest of the fund is designated to support salaries of UGA graduate students and post-docs engaged in research on honey bees and crop pollination. In this manner, Mr. Schaer's gift will help ensure succeeding generations of honey bee scientists and promote a better understanding of the honey bee - a source of pleasure, fascination, and income for thousands of Georgians.
Students interested in applying for support from the Schaer Endowment are instructed to personally contact Professor Keith S. Delaplane.
Myron Harold Schaer 1934 – 2002
Myron Harold Schaer was born 29 April 1934 at home near the village of Lockville, Fairfield County, Ohio. Myron was the third of four children born to Rita Hope and Alphons Gustav Schaer. Home, where Myron was born and grew up, was a 160-acre farm – where livestock and seasonal crops were raised. Life on the farm centered around the family, the Lutheran Church, and the community.
As a young boy, and throughout his life, Myron was curious, adventuresome and interested in everything.

Myron received his primary and secondary education from the schools in Canal Winchester, Ohio. He was a popular young man and participated in many school activities, including sports and drama. He served as President of his senior class. However, the activities that helped him gain the leadership experience and life skills were his memberships in FFA, 4-H, and Grange.

In Future Farmers of America, Myron was on the agronomy judging team, participated in the parliamentary procedure contests, served as chapter president in 1951 and received the State Farmer Degree.
Myron's active participation in 4-H – taught him many life skills and gave him the opportunity to show livestock at fairs - winning prizes (and cash!) that would finance another tractor for the family farm and his first car – a used green Nash.

Following high school, Myron enlisted in the United States Navy. He served as an engineer on the submarine USS Menhaden that operated, at the time, in the East and South China Seas, eastern Pacific Ocean and WesPac. After an honorable discharge from the Navy in late 1956, Myron found himself in San Diego, California. From there he began a six-month tour of the western United States via a Harley-Davidson.

Once home Myron used the GI Bill to attend The Ohio State University. While at Ohio State, Myron affiliated with the Alpha Zeta fraternity and served as its president during his senior year. Between college quarters and in the summer, he worked as a brick mason. Receiving a Bachelor of Science in Food Technology in 1962; he was hired by the Bakery Division of the Pet Food Corporation where for the next thirty years he worked as quality control supervisor in bakeries in Michigan, Pennsylvania, Georgia and Florida.

A man with wry humor and an inquisitive nature, Myron was an avid outdoorsman enjoying hiking, hunting, fishing, archery, snow skiing, camping, golf, and scuba diving. He enjoyed reading and collected an eclectic personal library. Two of his dreams were to hike the Appalachian Trail and to live for a season in the wilds of Alaska. Unfortunately, Myron never achieved these dreams.

A farmer and outdoorsman all his life – even though his work kept him in the city and inside a mega-bakery, Myron investigated ways to satisfy his continuing interest in agriculture and the world around him. Beekeeping - apiary science was a perfect fit. After his retirement in 1992 from PET Foods, Inc., Myron geared up his beekeeping activities. Penataka Apiary was established. Hives on farms in Georgia, Alabama, and the home farm in Ohio – and one special hive housing his "guard" bees near the porch at his home in Rome, Georgia produced the honey that was processed in his home lab. Prize-winning Penataka honey was sold in stores around Rome, and was enjoyed by many, including his friends and relatives.

In keeping with his interest in the science and technology, and his desire to increase his knowledge and skills Myron attended many seminars presented by the University of Georgia and the Beekeepers of Georgia Association. It was this curiosity and concern for the future of bees and the impact the health of bees has on agriculture that led Myron to leave a legacy to the University of Georgia by establishing a fund for the scientific research of honey bees and for crop pollination research.